Holy Avatar vs Maidens of The Dead-PROPHET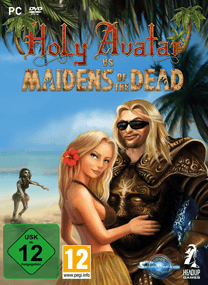 Title: Holy Avatar vs Maidens of The Dead-PROPHET
Genre: Adventure, Indie, RPG
Developer: Silent Dreams
Publisher: Headup Games
Release Date: 08-2013
File Size: 1.43 GB / Split 5 parts 300 MB + Single Link ISO
Mirrors: Mega.nz, DownAce, Google Drive, Uptobox
Free Download Holy Avatar vs Maidens of the Dead PC Game – After a rather ungently arrival on the beach they made a gruesome discovery: numerous dead maidens, horribly mutilated, are scattered all over the path to the inside of the island. The Guild of Maidens is afraid that something horrible happened in the maidens camp on the island. Holy …
Holy Avatar vs Maidens of The Dead-PROPHET
DESCRIPTION
To get a bit of relaxation after the last big battle of Grotesque Tactics 2: Dungeons & Donuts Holy Avatar decides to take a trip off-the-cuff with his Guild of Maidens on a Caribbean island, his recently purchased "Holy Island".
After a rather ungently arrival on the beach they made a gruesome discovery: numerous dead maidens, horribly mutilated, are scattered all over the path to the inside of the island. The Guild of Maidens is afraid that something horrible happened in the maidens camp on the island. Holy Avatar – secretly happy about this twist – is going to investigate what exactly happened with a part of his group, looking for new adventures, not knowing what kind of scale this disaster has already taken and what hazards are waiting for him and his companions inside the dense woods and caves…
Features:
• Exciting round-based battles with a wide range of quests
• An ironic and thrilling story with plenty of potshots at well-known movies and video games
• Equally suited for beginners and seasoned RPG gamers
• Character-growth through multiple skill trees
• Colorful, comic-like graphics and a soundtrack with a Caribbean flair
• ZOMBIES, lots and lots of zombies!
SCREENSHOT
SYSTEM REQUIREMENTS
Recommended:
• Operating System: Windows XP, Vista, 7
• Processor: 2.2 GHz Dual-Core
• Memory: 2 GB RAM
• Hard Disk: 4 GB
• Video: Nvidia GeForce 5 / FX / ATI Radeon 9500 Series / ATI X700 or better
LINK DOWNLOAD
MEGA
DownAce
GOOGLE DRIVE
UPTOBOX
UPFILE
SINGLE LINK
INSTALL NOTE
1. Unpack, burn or mount
2. Install the game
3. Go To Hell!
NOTE:
The game doesn't have English voices. If you don't like the German ones, you can turn them off in the game options. This is the official version that can be bought in digital download shops, so don't blame us for lack of English voices. Yet there is a rumor that they will be added in the upcoming update.